Biosystemix News
Biosystemix Joins the PRIVAC Partnership Project for Personalized Medicine Approaches in the Development of Vaccines for HIV and Cancers
Montreal, October 3, 2007
Biosystemix joins the PRIVAC initiative as a partner for innovating technologies for improved clinical vaccine development and delivery. Funded by Genome Quebec and private sector contributions, the PRIVAC project, Genomics applied to the discovery and development of vaccines and immunotherapies, unites leading experts, institutions, and commercial efforts.
The application of a state of the art genomic molecular profiling and computational analysis technology platform will bring together the pieces required for more effective vaccine development. The biomedical technologies created and applied here will have significant impact in HIV and cancer vaccine treatments, and will provide the foundation for personalized vaccine medicine for a wide range of infectious and immune disease applications. Biosystemix will apply its data-driven approaches and pioneering expertise in personalized molecular medicine to transform clinical scientific data on the fast track into commercial biomedical applications.
"We are excited to continue our long-standing working relationship with Biosystemix, which originates from the Genome Quebec and Genome Canada funded S2K project: 'Functional Genomics, Pharmacogenomics and Proteomics of the Immune Response in Health and Immune Related Disorders.' In this PRIVAC project, we will capitalize on the groundbreaking discoveries concerning early clinical molecular vaccination responses we made with Biosystemix in S2K," states project Scientific Director Dr. Rafick-Pierre Sekaly.
According to Dr. Larry D. Greller, CSO of Biosystemix, "As part of Dr Sekaly's PRIVAC project, we will expand the application of Biosystemix's data-driven approaches to define the molecular signatures and causes that distinguish effective from ineffective vaccines." Dr. Elias Haddad, Project Manager and Senior Investigator, adds, "The clinical molecular profiling data generated here will also provide us with novel functional insights into protective immunity. With Biosystemix's advanced methods for network reverse engineering, we will gain new knowledge on the major molecular interactions underlying effective vaccination".
"We look forward to joining again the Dr. Sekaly team in this PRIVAC project. The careful clinical genomic study design provides a powerful data foundation for Biosystemix to extract key markers and targets. This project represents an excellent opportunity to create groundbreaking medical and economic value, through diagnostic and prognostic tests, and personalized targeting of vaccines," says Dr. Roland Somogyi, President of Biosystemix.
Contact:
Dr. Roland Somogyi, President and Founder Biosystemix Ltd. rsomogyi@biosystemix.com, 613-376-3126
Dr. Larry D. Greller, CSO and Founder Biosystemix Ltd.
ldgreller@biosystemix.com, 613-542-4554
Dr. Rafick-Pierre Sekaly, Scientific Director, PRIVAC Project, University of Montreal
rafick-pierre.sekaly@umontreal.ca, 514-288-6303
Dr. Elias Haddad Project Manager and Senior Investigator, PRIVAC Project, University of Montreal
elias.haddad@umontreal.ca, 514-890-8000 x35264
GRAFTS AGAINST CANCER:
A MAJOR DISCOVERY TO IDENTIFY "DANGEROUS DONORS" IN ADVANCE
Montreal, January 31, 2007
The Public Library of Science Medicine journal (PLoS Medicine, USA) has published today a major discovery, led by a Canadian research team, on blood cancers (leukemias and lymphomas), and on the treatment of these cancers by means of peripheral blood T-cell grafts.
The project was initiated and managed by Prof. Claude Perreault, MD, principal investigator at the new Institute for Research in Immunology and Cancer (IRIC), University of Montreal, and holder of the Canada Chair of Research in Immunobiology. The study involved 13 senior researchers and 50 patients suffering from haematological cancers and their respective immunologically-matched sibling donors. The patients were from the Maisonneuve-Rosemont hospital in Montreal. Statistical analysis and mathematical outcome-predictive modeling of these complex data were provided by Biosystemix Ltd. In the coming months, the discovery will be extended in larger test phases to other hospitals in Canada and the US.
Peripheral blood stem-cell grafts from immunologically-matched donors are still the best way to treat or cure patients with certain leukemias and lymphomas. In Canada alone, 10 000 people have benefited from this therapy. However, this type of graft is risky because of a major potential complication: "graft-versus-host disease" (GVHD). GVHD is a rejection of recipient tissues by the donor's T cells that see their new host as 'non-self'. As many as 60% of recipients develop GVHD. In the best-case GVHD scenario, the disease markedly diminishes the patient's quality of life. In the most severe cases, GVHD may cause death. Because of the GVHD risk, graft of donor T cells can only be proposed to a small number of patients having leukemia or lymphoma. And until now, no reliable prediction could be made to determine if a recipient would be likely to incur GVHD or not.
Today's announced discovery opens the way to a reliable test to determine whether or not the cells of a donor will likely cause a GVHD or not in the recipient, if the graft is performed. Researchers in this study have used two molecular biology techniques: gene expression microarray biochips and quantitative polymerase chain-reaction. These techniques allow measurement of the expression levels of genes in a donor's blood cells. Mathematical and statistical analysis of the results has shown that the activity levels of 17 genes, particularly in certain pair-wise combinations, predict if a donor will cause GVHD, or not, in the recipient. In other words, it is possible before transplant to distinguish dangerous donors from those donors who are not. This discovery for the first time provides strong experimental evidence and statistical support that the donor's gene expression pattern largely determines the development of GVHD in the recipient after the graft.
Creating a predictive test from this discovery will have a considerable impact on patients' medical needs and futures, ameliorate hardships on their families, and lessen burdens on medical professionals and medical systems everywhere trying to manage hematopoietic cell transplants and the consequences.
As Dr Perreault underlines, « a predictive test that will identify dangerous and non-dangerous donors will allow physicians to choose the best donor. If no « non-dangerous donor » is found, then a physician can give the recipient a more intensive immuno-suppressive treatment to prevent GVHD. This opens the door to hematopoietic cell transplant personalized medicine. »
« In this research, the special combinations of clinical design, advanced cell-sorting technology, large-scale gene expression profiling, and novel statistically-supported outcome-predictive computational analyses have produced together a very effective systems biology approach.» says Biosystemix co-founder Dr. Larry Greller. «We are excited by the practicality and potential medical utility of these results, and look forward to their continuing validation in larger contexts.», says Biosystemix co-founder Dr. Roland Somogyi.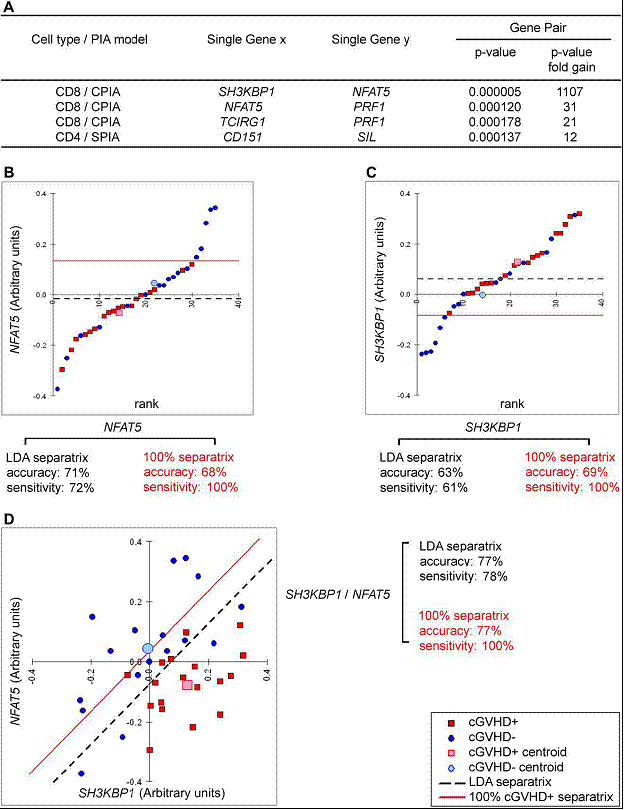 Researchers collaborating in the discovery with Prof. Claude Perreault:
Chantal Baron (IRIC & Maisonneuve-Rosemont hospital), Roland Somogyi, Larry Greller, & Carolyn Cho (Biosystemix Ltd) Vincent Rineau (IRIC & Maisonneuve-Rosemont hospital), Peter Wilkinson (Lady Davis Institute for Medical Research, Montreal), Mark Cameron & David Kelvin (Toronto General Research Institute), Pierre Chagnon (IRIC), Denis-Claude Roy (Maisonneuve-Rosemont hospital & IRIC), Lambert Busque (University of Montréal Medicine Department & Maisonneuve-Rosemont hospital), Rafick-Pierre Sekaly (CHUM Research Center, Montreal)
Research project led with the financial help of Genome Québec, Genome Canada, The Dana Foundation (New York) and the Fonds de recherche en santé du Québec (FRSQ).
About the IRIC
The IRIC is a major, systems biology based cross-disciplinary research centre dedicated to immunology and cancer. It is led by a group of internationally-recognized scientists and engages in ambitious collaborations involving complementary fields of expertise to tackle some of the greatest obstacles to human health. IRIC was inaugurated at the heart of the Université de Montréal campus in spring 2005 and is expected to double in size over the coming years, for a total of over 500 investigators, postdoctoral fellows, graduate students and professionals by the end of the decade. For more information, visit our website at: www.iric.ca
Contact:
Damien Fiere – Communications & Public Affairs Manager, IRIC, U. Montreal
514-343-7894
communications@iric.ca
Dr. Larry D. Greller – CSO, Biosystemix
613-542-4554
ldgreller@biosystemix.com
Dr. Roland Somogyi – President, Biosystemix
613-376-3126
rsomogyi@biosystemix.com
Click to view complete press release as featured on:
Click to view additional news features:
Biosystemix reports personalized medicine advance in multiple sclerosis (MS): using clinical data from an international collaborative study of patients with MS, 3-gene IBISTM models were developed that predict patient response to the drug interferon beta (IFNb)
April, 2005
Kingston, Ontario, Canada, and San Francisco, California, USA. Within a multi-year international collaboration, Biosystemix scientists contribute to a significant advance for solving a difficult problem in molecular medicine: predicting a patient's drug response from molecular profiling of heterogeneous patient samples in a complex progressive autoimmune disease. The collaboration includes scientists from Biosystemix, Kingston, Canada; UCSF, San Francisco, USA; Queen's University, Kingston, Canada; and Hospital Vall d' Hebron, Barcelona, Spain.
Detailed methods and findings were reported recently in the journal Public Library of Science, Biology (Baranzini SE, Mousavi P, Rio R, Caillier SJ, Stillman A, Villoslada P, Wyatt MM, Comabella M, Greller LD, Somogyi R, Montalban X, Oksenberg JR (2004) Transcription-based prediction of response to IFNb using supervised computational methods. PLoS Biol 3(1): e2 ). In this challenging multiple sclerosis (MS) study, scientists maintained the highest clinical and technical quality standards regarding precision gene expression measurements, advanced data mining, predictive modeling, and in-depth statistical validation (a robust combination of IBISTM methodology and extensive re-sampling statistics).
Dr. Sergio Baranzini of UCSF says, "We believe that we were able to derive the highest quality measurements of blood gene expression from patients with multiple sclerosis by using triplicate, ultra-sensitive and high-precision RT-PCR measurements.
In a related perspectives commentary in PLoS Medicine (Kaminski N, Achiron A (2005) Can blood gene expression predict which patients with multiple sclerosis will respond to interferon? PLoS Med 2(2): e33), researchers Kaminski and Achiron captured the essence of the MS-3d IBIS study: "The importance of Baranzini and colleagues' study lies not in its mechanistic insights, but in its clinical relevance. The careful design of the experiment, the use of reproducible real-time PCR instead of microarrays, the meticulous analysis, and the previous observations support the notion that PBMCs [peripheral blood mononuclear cells] express clinically relevant gene expression signatures in MS [multiple sclerosis] and probably in other organ-confined diseases."
Dr. Larry D. Greller, CSO of Biosystemix explains, "To capture and model the nonlinear and combinatorial predictive gene expression patterns hidden in this dataset, we developed a new version of the IBIS algorithm that can generate powerful 3-dimensional predictive models." IBIS (licensed from Parteq Innovations, Queen's University, Kingston, Canada) combines Bayesian probability inference for linear and nonlinear discrimination with empirical statistical cross-validation. Dr. Parvin Mousavi, Queen's University School of Computing, comments, "We also added a further layer of cross-validation to the 3d IBIS implementation to protect against overfitting and to add robustness to the clinical predictive models." To provide scientists and clinicians with insight into the specific patterns of patient gene expression associated with good and poor drug response, Drs. Mousavi and Greller developed novel presentation graphics to visualize the 3d outcome-predictive probability distributions (see example below).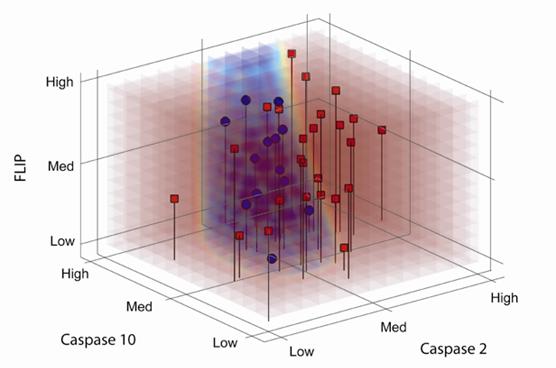 To take the next important steps in predictive personalized medicine, Biosystemix untangles complex datasets by applying, extending, and inventing methods of pattern recognition as well as innovative multi-gene models (e.g., "Predictive Interaction Analysis") customized to provide specific biomedical solutions. These projects are being carried out in research partnerships in immunogenomics (transplant rejection, HIV, SARS), toxicogenomics, and cancer.
Biosystemix Provides Advanced Data Mining and Predictive Modeling as an S2K Program Partner for the Development of Personalized Medicine Models in Immune Diseases
June 21, 2004 12:45 PM US Eastern Timezone
Biosystemix (http://www.biosystemix.com/) joins S2K (http://www.s2kgenome.ca/) as partner to develop data-driven computational models that predict disease susceptibility and progression, and therapeutic response. Funded by Genome Canada and Genome Quebec, S2K's program, "Functional Genomics, Pharmacogenomics and Proteomics of the Immune Response in Health and Immune Related Disorders," brings leading experts, institutions, and private sector efforts into a significant partnership to advance fundamental scientific understanding of immune dysfunction, and generate intellectual property for effective diagnostic and therapeutic agents including vaccines.
Biosystemix employs field-advancing data mining algorithms to discover complex relationships that link predictive marker sets to critical clinical outcomes and phenotypes. "The complexity of the immunological response often involves the combined action of multiple cellular and molecular effectors," explains Dr. Larry Greller, CSO of Biosystemix. "Our pattern analysis methods capture the combinatorial and nonlinear relationships required for the effective discovery of these complex disease markers and mechanistic regulators."
S2K academic and clinical laboratory associates generate complex arrays of data (gene expression, proteomics, and cellular immune response) regarding HIV and HCV infection, rheumatoid arthritis, and transplant rejection. Dr. Rafick-Pierre Sekaly, S2K Scientific Director, explains, "We aim to progress our understanding of these leading causes of mortality and morbidity through the application of cutting-edge technologies for molecular immune response profiling."
Within the Biosystemix-S2K partnership, Biosystemix will provide essential expertise to integrate complex volumes of data by applying advanced data-driven analysis solutions to extract key clinical, cellular, genomic, and molecular relationships leading to predictive molecular markers and models. Through comprehensive reverse engineering and mathematical modeling workflows, Biosystemix accomplishes integrations of data-driven markers into functional models of immune response and signaling networks.
"We are looking to Biosystemix," Dr. Sekaly adds, "to mine this combined, clinically- and experimentally-derived information for better diagnostic and prognostic markers of these disorders and diseases, and to integrate this knowledge into a systems model of immunological dysfunction." To advance personalized medicine, S2K seeks to develop significant individualized therapeutics. Resulting intellectual property will form the basis of commercial products, such as diagnostic and prognostic markers, novel therapeutic targets and vaccines, and data-driven models of immune regulation and dysfunction.
Biosystemix experts work directly with S2K scientists and management to define the pivotal scientific and clinical questions that guide computational discovery. Dr. Abdelkader Yachou, S2K Program Manager, says, "We are looking forward to working closely with Biosystemix as a strategic partner, and would like to welcome Dr. Greller to the S2K Research Management Committee and Dr. Roland Somogyi to the S2K Steering Committee."
Biosystemix and Queens University Collaborate in the Discovery of Personalized Medicine Solutions for Cancer: Multi-Gene Expression Profiling of Follicular Lymphoma
December, 2003
Kingston, Ontario, Canada – Biosystemix (www.biosystemix.com) will collaborate with Queen's University (www.queensu.ca) to combine genomic measurement technologies with state of the art computational analysis for the discovery of personalized medicine solutions in cancer. Funding has been provided by the Ontario Cancer Research Network (OCRN; www.ocrn.on.ca). to Queen's University scientists, led by Dr. Harriet Feilotter, for "Multi-Dimensional Profiling of Follicular Lymphoma". "The funding received from OCRN will enable development of a clinical tool that can predict the future aggressiveness of a specific type of tumour," said Dr. Harriet E. Feilotter, director of the Microarray Facility in the Department of Pathology at Queen's University. Currently used clinical, histological, and molecular information and indices are insufficient in distinguishing aggressive (short survival times) and indolent (long survival times) forms of Follicular Lymphoma (FL) early in the diagnosis of the disease. However, this project aims to augment these currently practiced assays with large-scale measurements of gene expression to provide a systems-level description of the disease, covering macroscopic and molecular variables. Biosystemix will apply its proprietary advanced data mining and computational analysis workflows to the integrated patient data for discovery of patterns associated with FL outcomes. "Of particularly high value may be relationships that link these data types to one another, e.g., gene expression signatures that could serve as surrogates for immunohistochemical, morphological features, or clinical index scores," adds Dr. Larry D. Greller, CSO of Biosystemix. Biosystemix will use its predictive model development tools to integrate the results from data mining into a more powerful, integrated prognostic tool for the early determination of "poor versus good prognosis" for FL patients. "Such a prognostic tool ultimately could be used at the time when patients first see their doctors, and when decisions about therapy options are being made," adds Dr. Feilotter. "While we are focusing our research on follicular lymphoma, the approach we are taking will be broadly applicable to other cancers."
Biosystemix Completes First Phase of a Toxicogenomics Collaboration with the Laboratory of Dr. Tim Zacharewski (Michigan State University): Data-driven Discovery of Estrogen Toxicity Pathways from Transcriptional Profiling Data
December, 2003
Kingston, Ontario, Canada and East Lansing, Michigan, USA – Biosystemix (www.biosystemix.com) and the laboratory of Dr. Tim Zacharewski (www.bch.msu.edu/~zacharet), Michigan State University, announce completion of the first phase of a toxicogenomics collaboration. Dr. Zacharewski's group has completed a carefully designed set of replicated gene expression microarray measurements to monitor the time course of gene expression changes that provide clues the toxic response pathways of steroidal drugs. "We realize the challenges of mining this complex dataset for pathway discovery, and value the results Biosystemix has provided us using their suite of gene network reverse engineering and visualization technologies". Biosystemix specializes in the "reverse engineering", i.e., the direct measurement data-driven inference, of gene regulatory networks from such stimulus/response, time series data. "We are pleased to have had the opportunity to work with such a high-quality dataset, from which we were able to extract key features of the gene regulatory network for providing novel pathway context and testable hypotheses to further steroid toxicity research," adds Dr. Roland Somogyi, President, Biosystemix. The discoveries facilitated by Biosystemix data-driven algorithms and workflows may provide valuable knowledge and screening marker candidates for the development of novel estrogenic and steroidal drugs.
Biosystemix and UCSF Collaborate on Research for the Discovery of Genes Predictive of Interferon b Response for Personalized Medicine Applications in Multiple Sclerosis
September, 2003
Kingston, Ontario, Canada, and San Francisco, California, USA – Biosystemix (www.biosystemix.com) joins an international collaboration with the Molecular Neuroimmunology Laboratory (http://www.ucsf.edu/brain/research.htm#anchor12), University of California San Francisco (UCSF), in a project entitled "Analysis of Transcriptional Profiles Associated with the Clinical Response to Interferon b Therapy". Multiple sclerosis (MS), the prototypic demyelinating disease in humans, is the second most costly neurological disorder after Alzheimer's disease. Interferon b (IFNb) is clinically used in the treatment of MS and has been shown to decrease relapses and possibly slow progression of disability. However, a substantial number of patients are not responders. "The response to IFNb in the treatment of MS is complex and only partial. Substantially more research is required to understand the mode of action, and discover predictive clinical, genetic, or immunological markers," states Dr. Jorge Oksenberg, director of the Molecular Neuroimmunology Laboratory. "Lymphocytes respond to IFNb treatment by activating transcriptional pathways that control the immunological effector functions. We plan to survey the gene expression of these pathways to help us find better molecular markers and mechanisms for IFNb action in reducing the symptoms of this neuroinflammatory disorder," adds Dr. Sergio Baranzini, principal investigator of this project. A key challenge in this project is the identification of the complex patterns of expression that distinguish IFNb response types. "On the one hand we need to deal with the complexity of gene expression in human blood, and on the other hand find the subtleties in differential pathway activation that distinguish good from poor IFNb responders. Biosystemix advanced data mining and predictive modeling methods are specialized to deal with combinatorial and nonlinear complexity, and preliminary analyses have shown that these may be key to finding more powerful molecular targets and markers for the treatment of MS," summarized Dr. Roland Somogyi, president of Biosystemix.
Biosystemix, Ltd. © 2007